Ross County fan Blaine Thomas got treated to the day of his life after mischievously applying for the manager's role last month.
The job eventually went to Owen Coyle, but not after 12-year-old Thomas had sent an application to chairman Roy MacGregor outlining his plans for the club.
Despite not getting the job, Thomas was treated to an afternoon with the new manager and was introduced to the players as he was given VIP access to first-team training.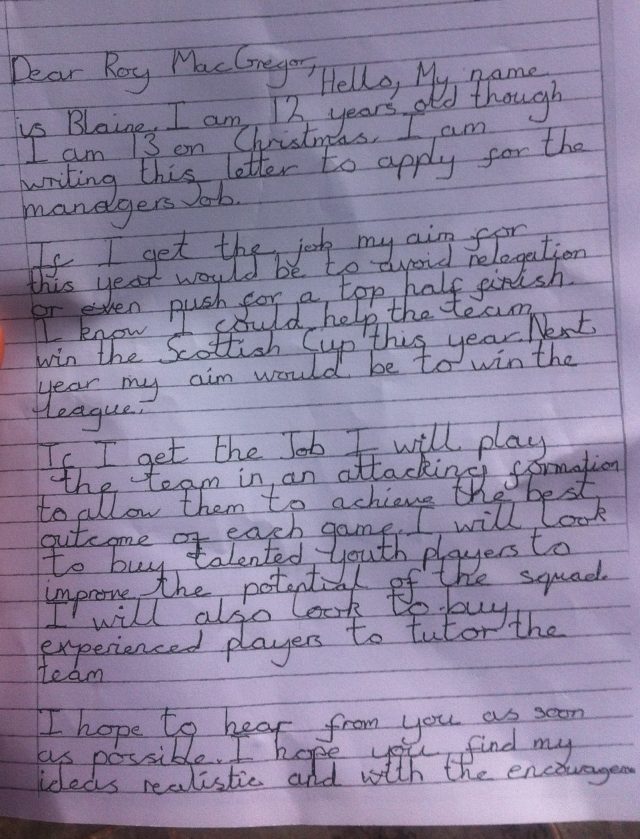 Thomas, a pupil at Invergordon Academy, told the Ross County website: "I saw Jim McIntyre had lost his job and I really like Ross County, so I just thought I would write and see what happens. I wrote to the chairman and was realistic about my expectations.
"In the first season, I said the priority would be avoiding relegation and maybe pushing for a top-half finish. But I also said we'd try to win the Scottish Cup as well. In my second season, I told him I felt I could have a go at winning the league.
"I told him what sort of players I'd want. I thought we could buy some experienced players to tutor the younger ones and also some youth players to improve the potential of the squad. I told the chairman I would play a more attacking formation and try to score some more goals. I hoped I might get a reply, but I didn't expect it would end in a day like this."
Coyle, who won his first game in charge of the Staggies before the international break, was delighted to invite his job rival to the ground and even let Thomas take his seat in the dugout.
"It was great to invite Blaine in to watch some training and see if he had any tips for me," the former Burnley manager said. "The players really enjoyed meeting him and one of them even invited Blaine and his family to a game in the future."